Jon R. Wampler

President and CEO (Retired)
Regional Vice President Western Region (Retired)
PacifiCare Health Systems
---
Since retiring from PacifiCare of California, Mr. Wampler created JRW Consulting to accomplish three goals: to help managed care companies, physician practices, and start-up healthcare companies in various aspects of their operations; to provide expert opinions in legal cases involving the healthcare industry; and, to serve corporate boards.
What distinguishes Mr. Wampler in his consultations is the breadth of his experience of over 40 years in the healthcare industry. He is uniquely qualified to provide guidance and opinions on all aspects of healthcare delivery.
---
Mr. Wampler has served or is currently serving on the boards of:
SC Fuels
California Stem Cell, Inc.
Clarient, Inc.
Portico, Inc.
Therapy Solutions
US Tech Labs
American Career College.
Clarient (Chairman of the Compensation Committee and served on Audit Committees as a financial expert)
---
Active in many University of California, Irvine affairs, his involvement with UC Irvine includes past and present memberships in:
The UCI Foundation Board of Trustees
The UCI Chief Executive Roundtable
The UCI Legacy Society
The Dean's Council for the Schools of Humanities and Social Sciences,
The Athletic Director's Advisory Council,
The Athletics Mentor Program
The Health Science Partners of the College of Medicine
The Graduate School of Management's Executive Advisory Council and Global Leadership Committee
The Dean's Council, UCI Graduate Division
He created the first intern program linking humanities students with Orange County businesses and not-for-profit agencies. In 2003 Mr. Wampler was awarded UCI's coveted Lauds and Laurel Award for a member of the community who has significantly enriched the University.
Jon and his wife Susan were named Distinguished Emeriti of the CEO Roundtable by Chancellor Michael Drake in May of 2013 joining former University of California President Jack Peltason and his wife Susie as the only persons so recognized.
---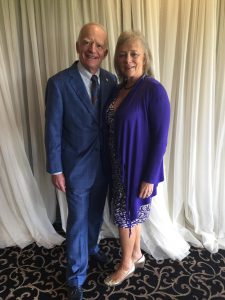 Jon Wampler joined PacifiCare of Texas as president in August 1990.  In 1994, he was promoted to President and CEO of PacifiCare of California and corporate Regional Vice President, Western Region.  In this position, he was responsible for overseeing all aspects of the organization's six billion dollar operations in Oregon, Washington and California and managed the $2.1 Billion acquisition and integration of FHP.
Prior to its acquisition by United Healthcare in 2005, PacifiCare Health Systems Inc. was the fifth largest health maintenance organization in the country.  PacifiCare's California operation was the company's largest, with more than 2.2 million members and nearly 70 percent of the company's total enrollment.
Jon received his Bachelor of Science degree from Indiana University.  Prior to joining PacifiCare, he served as Executive Director Humana HealthCare Plans of Colorado.  He also has been Vice President of Marketing for MetLife HealthCare Network of Colorado and Vice President of Spectrum Emergency Care, the nation's largest physician staffing company for emergency departments.
---
Wampler has served on or currently serves the boards of:
The American Heart Association
The Culver Education Foundation, Culver, Indiana
The California Chamber of Commerce
The California Association of Health Plans
The San Antonio Hispanic Chamber of Commerce
The San Antonio Local Organizing Committee for the '93 Olympic Festival and '97 Final Four
---
He has been a guest lecturer on ethics in business and leadership at:
The University of the Pacific
University of Southern California
Pepperdine
Chapman College
The University of California, Irvine
Mr. Wampler has also spoken at numerous state and national forums on healthcare as an expert in managed care.
---
Mr. Wampler has been married to Susan Yates Wampler for over 40 years. They have a daughter living in San Francisco, California.