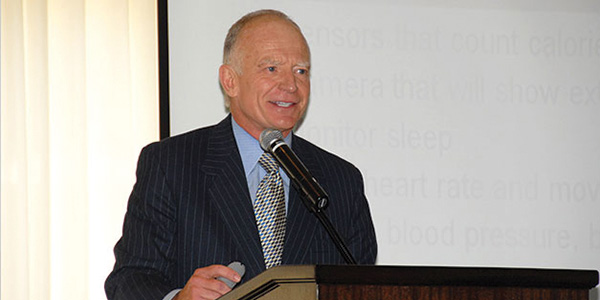 A teacher at heart, Mr. Wampler spends a considerable amount of his discretionary time with students. Whether lecturing to MBA graduate students on the importance of ethical management or talking basic business concepts with undergrads, Jon engages the imagination of his audience and propels them to understanding.
Leadership, applied ethics, managed care 101, and corporate governance are topics he speaks on regularly.
UCI and our students have benefited from your support of the School of Humanities, College of Medicine, CEO Roundtable and UCI Foundation (trustee), and your support at student events and lecturing.

–Ralph Cicerone, PHD
President, National Academy of Sciences
Former Chancellor, University of California, Irvine
I attended a year-long monthly corporate leadership development course created and facilitated by Jon. There were 22 employees from SC Fuels selected to participate. We discussed books and theories on leadership, ethics, communication and equality. Jon helped us polish our presentation skills and led us through some challenging exercises designed to tackle real issues the company is facing. The whole team emerged empowered to work collaboratively as leaders of SC Fuels.

–Robin LaFerrara
Sales Manager/CRM Manager, SC Fuels
Please contact Jon at 949-933-8823 or jon.wampler@gmail.com to discuss how he can help you meet your goals.